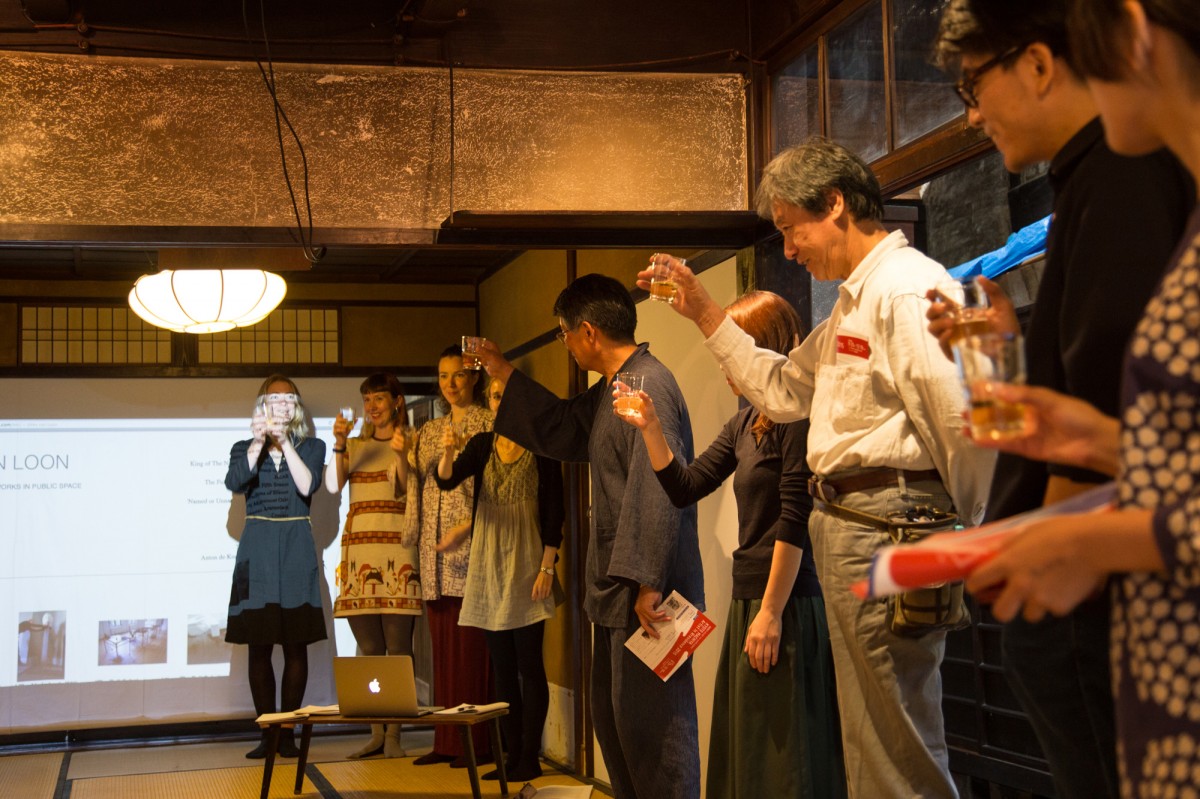 KYOTO MACHIYA AIR2015がスタート!!
9月25日よりレジデンスに参加するアーティスト3名が日本に来日し、いよいよ京都での滞在がスタートしました。また、10月4日には京町家AIR15のキックオフイベントとして、オープニングレセプションを開催。当日は関係団体から大学教授、学生、アーティストと幅広く20名以上の方にお越しいただきました。
レジデンスアーティストのJikke van LoonとIteke and Tjitske Hemkesの3名がそれぞれ自身の活動や作品を紹介する時間を設け、その後、参加者のみなさまとの交流を行いました。
いよいよ本格的にレジデンスがスタートする。そんな彼女たちの気持ちの高ぶりとこの3ヶ月にかける思いが、その場にいた人たちをどんどん巻き込んでいくような、そんな勢いを感じました。
September 25th the three participating artists of Kyoto Machiya AIR have come to Japan to start their residency.
As a kickoff event for the Kyoto Machiya AIR program, an opening reception was been held at ANEWAL Gallery. More than 20 visitors came that day, consisting of a wide variety of people including artists, students, teachers and others who are affiliated to related organizations.
First there was time for the three artists Jikke van Loon and Iteke en Tjitske Hemkes to introduce themselves and their works. Then, after their presentations there was time left to talk to the three of them.
Finally the Artist in Residence period has begun! An excited atmosphere was to be felt around the space, thinking that these three artists, who are so full of enthusiasm, will stay here for three months.
「京町家アーティスト・イン・レジデンス2015」
招待作家:ジッケ・ファン・ローン、イテケとチツケ・ヘムケス(計3名)
アーティスト滞在期間:9/25~12/16
成果発表展:12/4~6(予定)
レジデンス:ANEWAL Gallery、米田邸共催:
日本カルチャーセンター・アムステルダム('t Japan Cultureel Centrum)
公益財団法人京都市景観・まちづくりセンター
特定非営利活動法人ANEWAL Gallery
後援:オランダ王国大使館、在大阪・神戸オランダ総領事館
お問い合わせ:
NPO法人 ANEWAL Gallery
〒602-0059 京都市上京区実相院町156
TEL:075-431-6469
MAIL:contact@anewal.net
FAX:075-950-3240
*
「KYOTO MACHIYA ARTIST IN RESIDENCE 2015」
Period:9/25~12/16
Exhibition:12/4~6(Plan)
Machiya Residences:
ANEWAL Gallery,Yoneda House
Sponsored by:
't Japans Cultureel Centrum (JCC)
Kyoto Center for Community Collaboration (KCCC)
Specified Nonprofit Corporation ANEWAL Gallery
Supported by:
Embassy of the Kingdom of the Netherlands & Consulate General of the Kingdom of the Netherlands in Osaka/Kobe
Info
Specified Nonpr ofit Corporation ANEWAL Gallery
156 Jissoin-cho , Kamigyo-ku , Kyoto City
TEL:075-431-6469
FAX:075-950-3240