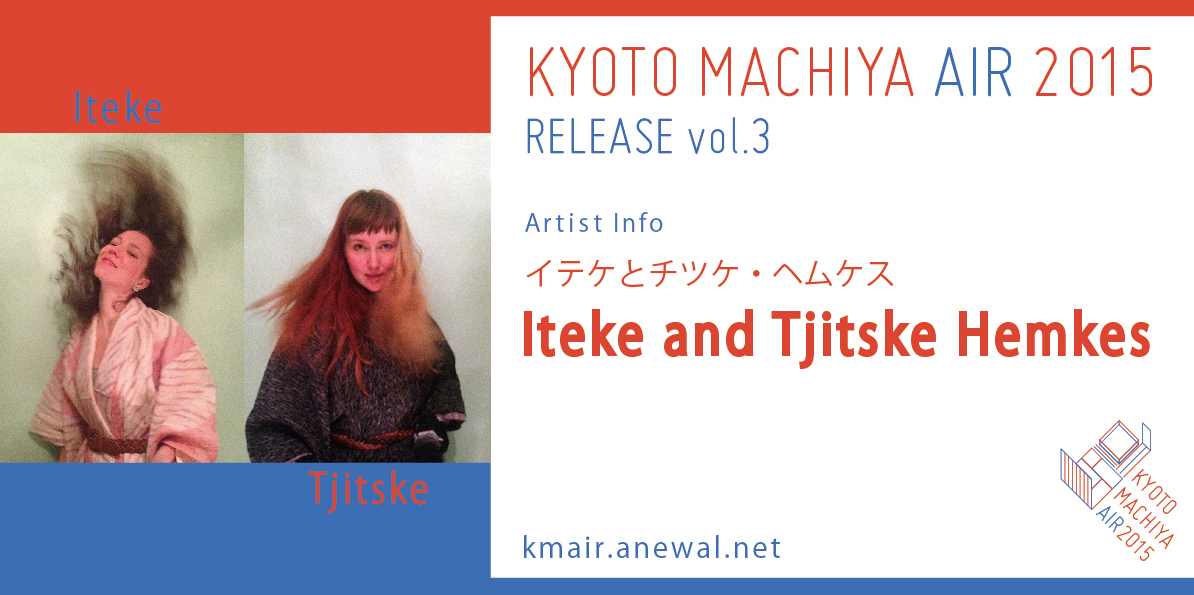 イテケ(1984)とチツケ・ヘムケス(1980)はアーティストの姉妹。
妹のイテケはハーグ王立芸術アカデミーでファッションとテキスタイル、グラフィックデザイン、二つの学士課程を卒業。現在はイラスト、映像やパフォーマンスといった分野で活躍している。姉のチツケはアイントホーヴェンのデザイン・アカデミーを卒業し、現在アムステルダムでフリーランスデザイナーとして映像やファッション、パフォーマンスから商品デザインにいたるまで、アートとデザインの境界にある作品を制作している。
The sisters Iteke (1984) and Tjitske Hemkes (1980) were born into an artistic family. Iteke got her bachelor degree in Fashion & Textiles and Graphic Design at the Royal Academy of Art in The Hague. Currently she works in the areas of illustration, film and performance. Tjitske graduated at the Design Academy in Eindhoven and now works as a freelance designer in Amsterdam. Her work can be described as falling in between art and design, ranging from video, fashion, performance and product design.
*
京町家アーティスト・イン・レジデンス2015での京都滞在にむけて、イテケとチツケの2人から意気込みをこめたメッセージが届いています。
A message by Iteke and Tjitske Hemkes about her ambitions when participating in the Kyoto Machiya AIR Project.
私たちは違う大学に通い、それぞれ独立したキャリアを歩んで来ましたが、次第に二人で作品を制作を始めるようになりました。子どもの頃から両親の影響で多様な物語や想像の世界を知り、シュルレアリスムに夢中になるなど詩的な世界観に興味を持ち、またそれを創作に生かしてきました。
私たちは同じことに魅力を感じるのですが、日本に興味を持ったこともその一つでした。日本と西洋では似いているところもありながら全く異なるところも多いので、日本を訪れ滞在する中で、驚いたり、心が揺れ動く瞬間があるかもしれません。ただ、それはアーティストとして創造することに大きく作用する力になると信じています。
「京町家アーティスト・イン・レジデンス」をきっかけに、近年多くの京町家が取り壊されている現状を知り、とても驚きました。今回、私たちのプロジェクトでは、アートの視点を通してこの素晴らしい建物の保存への意識を高めていきたいと考えています。京都に滞在する中で出会う「文化の違い」や「国境を越えた人と人の共通点」などから色々なインスピレーションを受けて、京町家の新しい解釈を考察していきたいと考えています。
そして、京都に滞在する中で、周辺の地域との関わりや京町家の社会的な背景を考慮し、様々な表現方法を試みながら作品を制作していきたいと思います。京都で見つけた現地の材料を使い、私たちが感じたこと、発見したことを「未だない京町家の魅力」として表現出来るのをとても楽しみにしています。
また、日本の方々との貴重な出会いや触れ合いを通じて「視点の違い」を理解することで互いに学びあうという、豊かな体験を共有していきたいです。
イテケとチツケ・ヘムケス
We have developed our artistic careers independently from each other, but lately there has been a growing desire to collaborate again, just like when we where kids. We used to create fantasy worlds with all kinds of materials and our parents would let us play until very late at night because they didn't want to stop our creative process. During our childhood we developed a similar poetic worldview and where both very intrigued by surrealism. We knew for a long time we wanted to explore Japan together, because we share the same fascinations. Japan is quite similar and at the same time completely different from western society, so we expect to get surprised, confused and inspired, which will lead to a boost in our artistic development.
When we found out about the Kyoto Machiya Air we where shocked to hear that so many Machiyas are being demolished. We felt we wanted to help raise awareness for the preservation of these amazing buildings by putting an artistic focus on it with our project. We want to get inspired by the cultural differences and human similarities that we come across during our stay and we want to translate that to a new interpretation of the Machiya. How we will do that is a surprise for us as well.
We want to investigate living in one first and reflect on its surroundings and on its social context. Then we will have many ways of expressing ourselves artistically because of our multidisciplinary way of working. We are looking forward to experiment with local materials that we will find in Kyoto, analyse our impressions and turn all our findings into a new world inside our Machiya. Our intention is to establish valuable interactions with Japanese people so that we can both be enriched by each others views.
Iteke and Tjitske Hemkes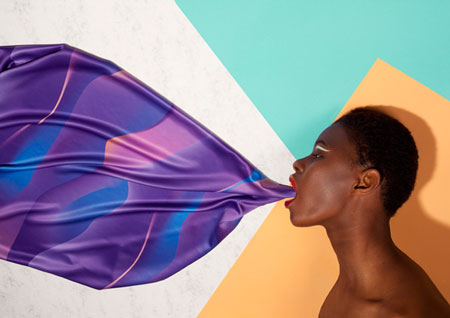 「Mikkusu」(2015) Iteke Hemkes
7カ国への電車旅行で得たインスピレーションを基に制作された「ミックス」という生地のデザイン。
撮影:Lauren Hillebrandt
'Mikkusu' is a set of fabric dessins that I designed inspired by the views from a long train-journey that covered seven countries.
Photography: Lauren Hillebrandt, Art direction: Iteke Hemkes, 2015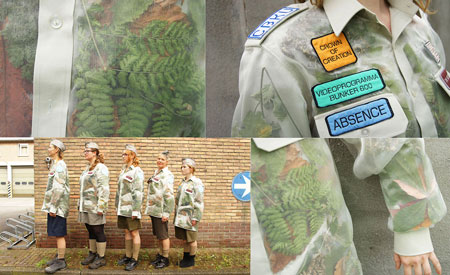 「Leaf army」Tjitske Hemkes
旧軍基地で開催された芸術祭のために3次元からなる迷彩柄の軍服をデザイン。このジャケットは透明の生地で作られ、その中に木の葉や植物が入っている。
'Leaf Army'. For an art festival on an old army base Tjitske was commissioned to design the outfits of the art guards. Army blouses where covered with a transparant layer of fabric with real leaves underneath. This way a 3-dimensional camouflage pattern was created.
「京町家アーティスト・イン・レジデンス2015」
招待作家:ジッケ・ファン・ローン、イテケとチツケ・ヘムケス(計3名)
アーティスト滞在期間:9/25~12/16
成果発表展:12/4~6(予定)
レジデンス:ANEWAL Gallery、米田邸共催:
日本カルチャーセンター・アムステルダム('t Japan Cultureel Centrum)
公益財団法人京都市景観・まちづくりセンター
特定非営利活動法人ANEWAL Gallery
後援:オランダ王国大使館、在大阪・神戸オランダ総領事館お問い合わせ:
NPO法人 ANEWAL Gallery
〒602-0059 京都市上京区実相院町156
TEL:075-431-6469
MAIL:contact@anewal.net
FAX:075-950-3240*
「KYOTO MACHIYA ARTIST IN RESIDENCE 2015」
Period:9/25〜12/16
Exhibition:12/4〜6(Plan)
Machiya Residences:
ANEWAL Gallery,Yoneda House
Sponsored by:
't Japans Cultureel Centrum (JCC)
Kyoto Center for Community Collaboration (KCCC)
Specified Nonprofit Corporation ANEWAL Gallery
Supported by:
Embassy of the Kingdom of the Netherlands & Consulate General of the Kingdom of the Netherlands in Osaka/Kobe
Info
Specified Nonpr ofit Corporation ANEWAL Gallery
156 Jissoin-cho , Kamigyo-ku , Kyoto City
TEL:075-431-6469
FAX:075-950-3240